Misty Moorings
Dan's Hideaway - Trip Ticket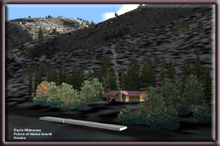 Route Notes:
Minimum altitude: 1200 feet
Direct Routing: If the weather is favorable, you may fly a heading from Mountain Point of 032 for 29 miles.
The New Eddystone Rock
A beautiful residence tucked away in a cove at the very southerrn tip of the south arm of the Cholamandelay Sound about in the center of the Prince of Wales Island. You can fly there direct on a heading of 212 from PAKT for a distance of exactly 25 miles or use the VFR TripTic plan below:
TreeTop VFR Plan
From: Ketchikan International
To: Dan's Hideaway
1. At Totem Bight, set a heading of 242 to go around the north end of Gravina Island at Vallenar Point.
2. At Vallenar Point, set a heading of 190 for 11 miles to Chasina Point ... the southern point at the entrance of Cholamandelay Sound
3. At Chasina Point, set a heading of 199 for 4 miles to Hump Island.
4. At Hump Island, set a heading to fly a left-around of Divide Head. Set a heading of 257 for 5 miles. Fly to port around this point.
5. You are entering the southern arm of Cholamandelay Sound. Follow the sound to the very southern end.
6. Dan's Hideaway is on the port coast near the end of the south arm.
Simply reverse this route to return to Totem Bight Airfield.
Doug Linn
Charter Manager
Misty Moorings, Inc
contact@mistymoorings.com